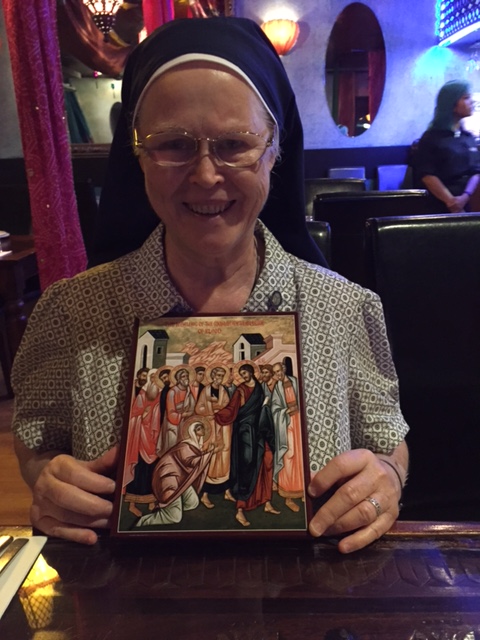 Sr. Bethany Mary, OC
Sr. Bethany Mary was born in the state of Queensland in Australia in 1949 and grew up in a thriving small sugar town. She was educated by the Sisters of Mercy all through Primary School, High School and her first four years of Nurse Training to become a Registered Nurse. She went on to train as a Midwife in Melbourne and found she had discovered her place in Nursing in working with mothers and babies. Sister continued on to England for a working holiday and completed her District Nursing Midwifery there as there was no such thing in Australia. After 2 years abroad she returned home and then soon after did her Maternal and Child Health Community Training. Mothers and babies has been the career path that Sister has loved over many years and she is passionate about society putting all it can into building nurturing resilient families.
Sister Bethany Mary married and has 2 birth children, a son and a daughter, both now adults. She also is mother to two stepsons, who are married with children, so she is now also a grandmother. She feel blessed in having a very close connected family, and though now separated from her husband, they remain married and keep in touch weekly.
Over the years Sister has worked in Hospital Visiting and taking Communion to the sick and with St. Vincent de Paul as well as being very involved in other areas in the School/Parish Communities. She retired early from her work due to a chronic health condition and now does some Hospital Visiting as well as taking calls from people dealing with chronic health conditions. Sister finds she does not have to go looking for things to do as The Almighty has a way of sending things her way as The Almighty sees fit, and she finds family life still a fulltime function.
As a girl at school, Sister Bethany Mary could remember hearing about three things which have grown over the years to be the impetus in her living out her life in whatever circumstances she finds herself; Practicing the Presence of God; the awareness that we are all Members of the Mystical Body of Christ and hearing about St Elizabeth of Hungary having the image of the face of Christ appear to her as she undid the cloak of a poor person to whom she was giving care.
While looking for a deeper foundation in her spiritual life, Sister came across The Founding Document which she says is both a "clarion call" and also a "setting of the seal" on what she was looking for as a way to grow more fully into living out the great first commandment that Jesus gave us. She remains a practicing Roman Catholic but is very interested in all people knowing they are children of God no matter what denomination or religion they come from. She believes in the saying of Rumi, the Sufi Mystic in his saying "The current of love from the One God is flowing throughout the entire universe. Each person is a current of the Essence of God which permeates him". Sister is deeply delighted to have been professed as a Companion and to be travelling the path now with the other Companions and Associates of The Ecumenical Order of Charity.
Sister Bethany Mary resides in Brisbane, Queensland, Australia and is the Order's first Australian Companion.